© Copyright 2014 WoodLazySusan.Com All Rights Reserved



Lazy Susan Styles
Choose your lazy Susan style
There are many style and design options
to consider for your lazy Susan. Wood
stock, grain, distressing, design, plank
lines, stain or paint color, texture, finish
sealer, edging, and profile combine to
make something unique.
Start by choosing a style
you like
below, then we will work with you to
pick the perfect color and finish to make
it yours. You can also start by choosing
your color here. We recommend

seeing
your color choice in person,
colors
seen on computer or phone screen are
not as true as seen in person. One of the
options for your color is

"mail stain
samples".
This way you will know for
sure before we stain!
Most exotic woods are available on
custom orders. Pine and birch stock are
our standard species.

Low Profile Style Wood lazy Susan
This elegant style low profile lazy Susan has
a mirror smooth top and eased "slightly
rounded" edges with a thin bottom second
panel that adds

support for heavy loads
and will NOT teeter! Bring on the heavy
dishes. Load just one edge with a heavy pot
and

never worry about it tipping.
Combined with a super strong bearing rated
for 1,000 pounds its the perfect Susan for
large food service.
View picture examples of low profile lazy
Susan turntables.
Wine Barrel Wood Lazy Susan
This wine barrel style lazy Susan has a metal
banding edge and can be built using
reclaimed or stock wood. There is only one
way to describe this beauty, with this run on
sentence. The one pictured above is white
pine with smooth knots, plank lines with a
matte finish and silver/gray distressed
banding, optional handles, stained
weathered gray with a low profile single
panel to combine rustic and elegance with a
very quiet bearing to make a very unique
and functional table centerpiece that will
provide years of service.
View picture examples of wine barrel lazy
Susan turntables.

Large Elegant Style Wood Lazy Susan
Do you have a large elegant style dining table
and found the center of your table unreachable?
Passing dishes involves standing and handling
hot serving dishes. This large lazy Susan is
anything but Lazy.
Your guests can reach items on the Susan
without standing!
All serving dishes are at
the ready to everyone and with a

super quiet
1,000 pound rated bearing you can serve all
courses at once, then sit and enjoy dinner. Your
guests will also enjoy the effortless food service.
View picture examples of elegant style lazy
Susan turntables.
Ultra Thin Style Wood Lazy Susan
This ultra thin style

light weight

wood lazy
Susan is 3/4 inches thick with just over 1/2
inch clearance off the table making this a
very low profile. It's

sleek elegant design
and mirror smooth surface available in any
color stain or paint has become one of our
most popular
items.
It is

very light

so moving is very easy. The
top edge is eased "slightly rounded" and the
bottom edge is squared which creates a very
thin appearance.
View picture examples of ultra thin lazy
Susan turntables.

Your Wood Lazy Susan Source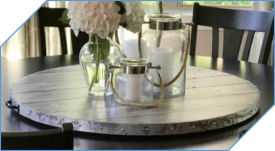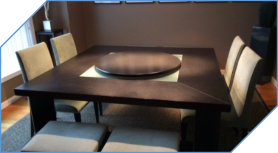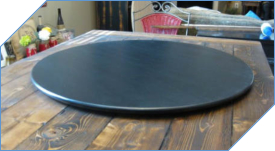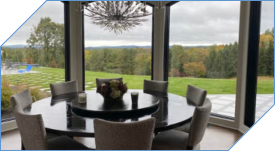 Black Wood Lazy Susan
The black lazy Susan is one of our most
popular lazy Susan turntables. Black goes with
almost any color and in the past was the only
option if you couldn't match your table. This
one is elegant style with eased (slightly
rounded) edges with a satin finish sealer. Sizes
available from 12 inches up to 60 inches in
either

rustic or elegant styles.
Do you have black counter tops, trim, place
settings, or dinner ware? use this black wood
lazy Susan to compliment your decor. Matte,
satin, semi-gloss, or high gloss finish sealer
available. See black wood picture examples
here.
Lazy Susan to Match Table Style
Do you have a unique table style with
colorful wood stock, plank lines, distressing,
or saw marks. Allow us to

match your
table style
so that your lazy Susan blends
and compliments your table. Send use a
picture to see if we can match your table
style. The answer is usually yes!
Finish sealers available in matte, satin,
semi-gloss, or high gloss in commercial
strength or low VOC on request.
View picture examples of lazy Susan
turntables to match your table style.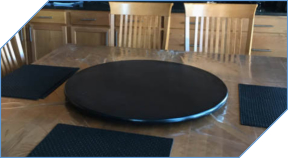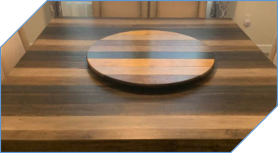 There are many lazy Susan styles to choose
from, and you will find most of them here.
See rustic, distressed, farmhouse style, to
refined elegant style. You can also choose to
match your table color by receiving stain
samples to choose your perfect color,
matching or complimenting.
We custom build each lazy Susan to order,
per our customers specifications. We do
have some styles already built, ready for
staining and finishing. May be yours?