© Copyright 2014 WoodLazySusan.Com All Rights Reserved




Your Wood Lazy Susan Source
Large Clear Wood Style Lazy Susan
Is your table perfectly smooth. Use clear
wood with no knots and light grain to create a
surface that is smooth like glass.
Large tables need a large Susan to be
functional. Calculate both

reach and set ups
to figure out the perfect size lazy Susan then
enjoy a fun dinner without spending most of
your time passing the potatoes. The large
Susan turntables have a very large base and
do NOT tip or teeter
even with heavy loads
on one side. See more examples here.
Large Knotty Wood Style Lazy Susan
One of our most popular large wood lazy Susan
turntables is the knotty wood. Mineral deposits
in the wood give it a very unique look. Sanded
unfinished or match your table color. Do you
have a large table? To

make diner
functional
choose a large lazy Susan to allow
room for set ups, and your guests can

reach
items on the Susan without standing
or
leaning over their plates.
See examples of popular knotty wood lazy
Susan styles.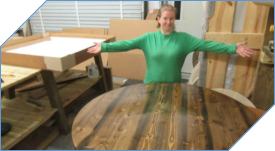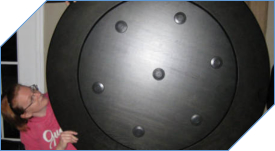 Lazy Susan to Match Table Color
We offer about 20 standard stain colors.
But age, wear, cleaning, and finish change
your tables color over the years. We

mix
our own colors to match your table
color
if you wish. The process we use is
simple. When you purchase a lazy Susan to
match your table color, it takes about 7-10
days to build and ready for staining. During
this time you send us pictures and using
our software we prepare and mail you
several

stain samples to see in person
to decide.
We highly recommend choosing
"send stain samples"
when checking out,
to confirm your stain color choice first, and
avoid surprises later. See more stain
matching examples.
Distressed Wood Lazy Susan
Is your table uniquely distressed, purposely, or
naturally?
Send us a picture of your table to

match the
distressing
or send a picture of distressing
you like! We can distress your wood lazy
Susan to your liking.
Use distressing to match other decor that you
have, or distressing you like. Match chairs,
walls, columns, cabinets, and more.
View more examples of distressed Susan
turntables here.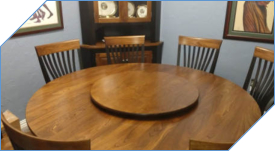 Farmhouse Style Wood Lazy Susan
This farmhouse style wood lazy Susan is a
beautiful rustic design. Using either knotty
white or yellow pine available in any color to
match or compliment your home. Planks are
used with

waterproof glue, dowels,
and/or biscuits
to create an old style
favorite.
Squared edges, plank lines, 1.5" thick wood,
securely and loving joined, stained and
finished to your liking, all combine to
compliment any farmhouse decor.
View more Farmhouse lazy Susan picture
examples.
Lazy Susan to Match Table Lines
Some tables have plank lines. Circles,
leafs, and straight lines adorn tables. Some
are design and some are by products of
the build.
You can now

match your table plank
lines
with the Susan to make a similar
matching piece. Send a picture of your
table to see if we can design a similar look
to match your table!
View more examples of plank lines here,
may be you will find your style!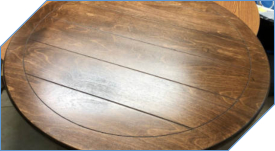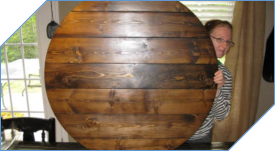 More Lazy Susan Styles
Choose your lazy Susan style